Oh, honey! The most famous treasure of bees! It is well known to be a grandmother's remedy used and recognized for millennia. Even Cleopatra liked to add honey to her donkey milk bath to soften her skin and preserve its beauty. Honey has various benefits that we will present to you in this article.
Honey mask benefits
You probably already know that this sweet substance is excellent for fighting colds or other colds, and for moisturizing the hair. But, several other benefits of honey have recently been discovered in application on the face, and you will certainly love them.
Benefit #1: It's the perfect daily cleanser!
The antioxidant, antiseptic, and antibacterial properties of honey make this ingredient a go-to for fighting blemishes. Honey opens your pores and combats those annoying blackheads and keeps your skin hydrated all day long. Just wet your face with warm water, take about a teaspoon of honey and apply it directly to your face. Then massage with circular movements. Add your usual cleanser, and continue massaging for 30 seconds before rinsing everything off. Continue with your usual care routine.
Benefit #2: It's a natural exfoliator
Say bye-bye to irritated and itchy skin by using a honey mask to gently exfoliate. You can also combine it with other ingredients (avocado, lemon, or apple cider vinegar) to improve your routine. Test yourself: start by cleansing your face, and spread a thin layer of honey alone or with the ingredient of your choice on your skin. Leave on for 8-10 minutes before rinsing off with warm water and patting your face dry. Use it once or twice a week to have amazing results.
Benefit #3: It is excellent for treating acne
Honey cleans and exfoliates your skin, also a good fighter for acne. Its anti-inflammatory benefits help remove excess sebum from the surface of the skin. And if you apply it every day, it balances the bacteria present on the skin. Honey can also be used as a spot treatment to soothe severe rashes, and even to relieve skin conditions such as eczema or psoriasis. The healing properties of honey help the skin to repair skin damage faster.
Benefit No 4: a good moisturizer
If your skin is dry and irritated, applying honey can have a soothing effect. it fights free radical damage and pollution, because of its antioxidant properties. It is excellent for bringing hydration to the skin, which will have the effect of smoothing and softening your complexion.
Benefit n°5: it is an excellent anti-aging agent
Honey contains in its composition probiotics, antioxidants, nutrients, and enzymes that work in synergy to nourish and plump the skin. It will therefore retain and rebuild moisture in the skin without greasing it, or causing irritation, often seen when the pores of the skin are clogged. Although it does not eliminate wrinkles, it does reduce their appearance. In addition, antioxidants help repair damage caused by time, which are visible signs of aging.
Check out also my article: Do Honey And Lemon For a Cough An Effective Remedy?
Honey on face overnight, two masks:
At night, skin cells are activated to repair the skin, and fight impurities and excess sebum. This is why it is important to take care of the skin in the evening before going to bed. This requires a good cleaning followed by the application of a beneficial treatment to help the skin to be hydrated, radiant, nourished, plump, and purer when you wake up. Masks to leave on overnight are excellent for this because they are concentrates of active ingredients.
We warn you all the same about the fact that these masks can be a little messy for the sheets. So avoid putting on your prettiest pillowcase to do these treatments!
An anti-acne and pimple night mask
In this treatment, we find raw potato juice which is anti-inflammatory and which contains a good dose of vitamins A, B, and C as well as green tea which is antioxidant and antibacterial.
What's needed :
A teaspoon of raw potato juice
A teaspoon of green tea (infused in hot water for 10 min)
Steps :
1) Wait until the tea is less hot.
2) Mix the ingredients.
3) Apply the mixture to the skin (clean) using a cotton pad. Emphasize blemishes and pores.
4) In the morning, wash your skin with your usual care.
The ultra-nourishing honey mask
This mask is a little sticky but it has no equal to hydrating and nourishing the skin. The honey that composes it is moisturizing, the vitamin E is an antioxidant and the avocado is very nourishing and moisturizing, the latter being a precious ally against marked areas of dryness.
What's needed :
A teaspoon of honey
3 vitamin E capsules
A quarter of an avocado
Steps :
1) Mix all the ingredients until you get a homogeneous mixture.
2) Apply a thin layer to the face and neck.
3) The next morning, rinse the face well before doing your usual routine.
Honey face wash
To try a honey facial cleanser, opt for unfiltered and unpasteurized organic honey. If your skin suffers from acne, choose the very effective Manuka honey.
Then take the equivalent of half a teaspoon of honey in your hands.
Warm the honey between your fingers with a few drops of hot water if necessary.
Then massage your face for a few minutes with the treatment, emphasizing the T.V zone.
You can then leave the honey on your skin for 15 minutes if you wish.
Finally, rinse with lukewarm water, and you're done!
Check out also my article about 10 Secret Things About Royal Honey, Or Jelly Royal 
Benefits of honey and lemon for skin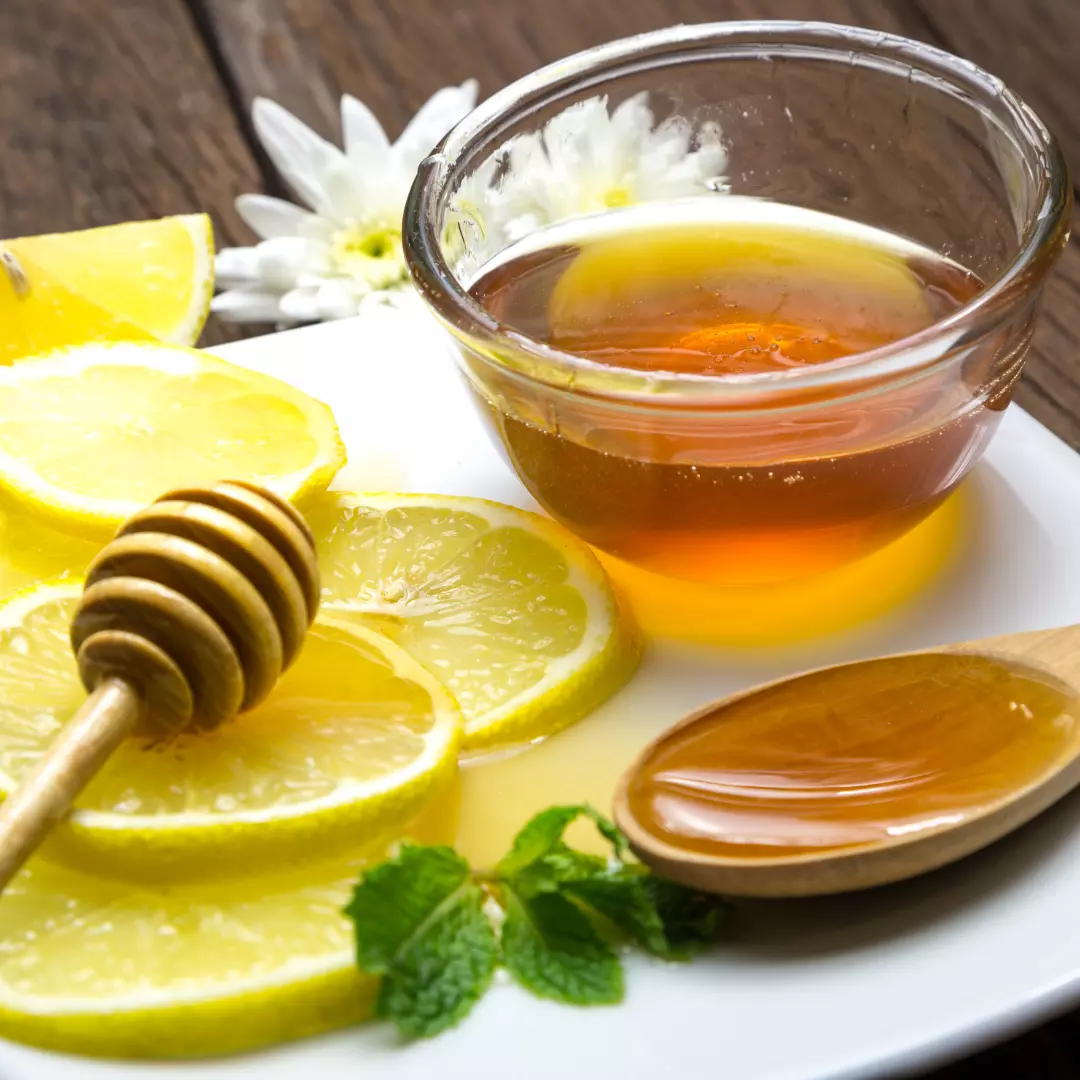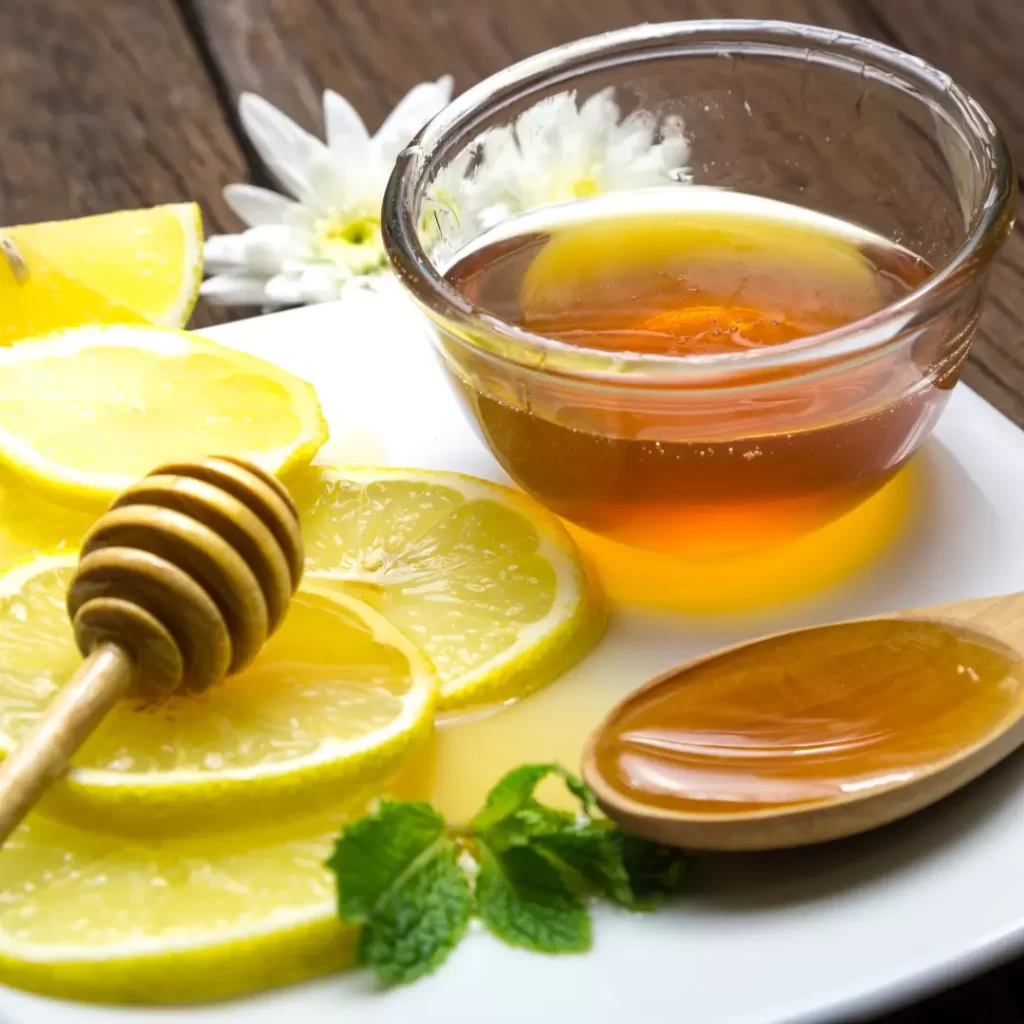 Care that sublimates you in a jiffy
This mask is suitable for all skin types but is particularly suitable for problems, combinations, and oily skin. Used once a week, it helps to tighten pores and refine skin texture, but also to cleanse, help to heal, and reduce the production of sebum – responsible for your shine.
Easy to concoct, this very simple and very inexpensive mask is not harsh on the epidermis, and in the long term gives your skin the tools to regulate its sebum secretion: pretty matte skin is yours!
Lemon: an anti-comedone… to be handled with care
Ideal for fighting pimples, lemon juice has many advantages: it disinfects, cleanses, and brightens. Thanks to lemon, this mask ravages the most resistant blackheads in a few minutes! Indeed, the acidity of the citrus encourages the dilation of the pores, where the undesirables nest. All you have to do is gently remove them!
However, be careful when using lemon: this food is photosensitizing. In other words, do not expose yourself, especially during or just after making this mask: the sun could print indelible stains on your skin! In summer, do it in the evening before going to bed.
Honey: powerful under its sweet air
This ingredient acts as a natural antibiotic: it purifies the skin in-depth and kills the bacteria which, by becoming encrusted, give rise to pimples. It is a powerful astringent, with active tensors: pores are tightened, and wrinkles are reduced! Best friend of oily skin, honey treats the epidermis with a firm hand but without aggressiveness, with the key to a pretty even skin that exudes freshness!
The easy recipe for a lemon honey mask
Mix one tablespoon of honey with one tablespoon of lemon juice. Apply it to your face, avoiding the eye area. Leave on for at least 15 minutes, for a deep action, and rinse with lukewarm water.
If you feel tingling during the exposure time, shorten it and wash your face!
Being beautiful naturally, with honey and lemon, it's easy as hello! Do you have a little mask left? Apply it for about ten minutes on your ends for strong and shiny hair!
How long should I leave honey on my face?
Being a natural humectant, honey keeps water in the epidermis, for more supple, soft, and deeply nourished skin. The trick? Apply honey all over your face, and try to avoid the eye area. rinse it with clean water after leaving it for 15 to 20 minutes
Is honey good for the face every day?
Its anti-inflammatory benefits help remove excess sebum from the surface of the skin. And if you apply it every day, it balances the bacteria present on the skin.
Does honey help skin glow?
Honey nourishes and softens the epidermis of the skin and can also be used for the hair to make them supple and shiny. Honey is often used in homemade cosmetics because it's simple to use, easy to mix with other natural products like essential oils, and keeps well.
Does honey remove dark spots?
Researchers have not established a direct link between using honey on the face and lightening dark spots. But since honey has exfoliating properties, using it on the face can slough off dead cells that are making your skin look dull. This can reveal more radiant skin.