This is the best cookie recipe without eggs!!. They are soft to perfection, easy to make, without resting time but above all, they taste like classic chocolate chip cookies. You won't even realize they don't contain eggs. Biscuits are composed of ground almonds and hazelnuts that bring a rustic side to these cookies. Prepared in 5 minutes and baked in 15 minutes, cookies are ready for children's snacks or brunch.
Fluffy Cookies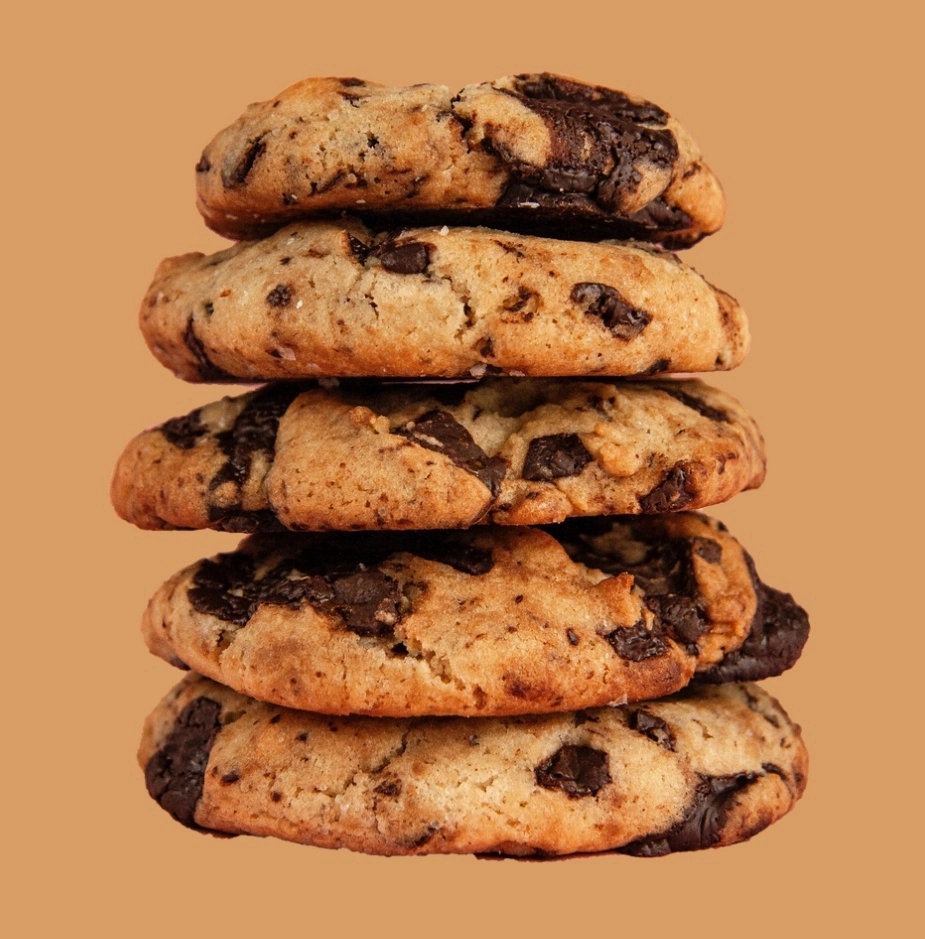 On Wednesday, the girls finish school early and it's also the only day of the week when I prepare dessert, whether it's muffins, biscuits, cakes, or cookies. However, I very rarely make elaborate desserts, the goal is to prepare them a quick snack like these cookies without eggs! The preparation does not require any particular robot or equipment, just a salad bowl, and a whisk.
Cooking is very fast: 15 minutes. No rest is necessary.
Check out also this article about FRUIT CAKE RECIPE – So Simple Even Your Kids Can Do It
The basic ingredients available in the pantry: are flour, brown sugar, butter, chocolate chips, ground almonds, and hazelnuts (but you can substitute one or the other).
No eggs for these cookies!!. This is the perfect recipe for intolerant people, but above all, ultra-gourmet little biscuits.
They are rich in flavor, with crispy edges while the inside is chewy. If you want crispier cookies, extend the baking time.
As you know, chocolate chip cookies are America's favorite. And even if this version without eggs is not a classic, it will be very appreciated.
Fluffy Soft Chocolate Chip Cookies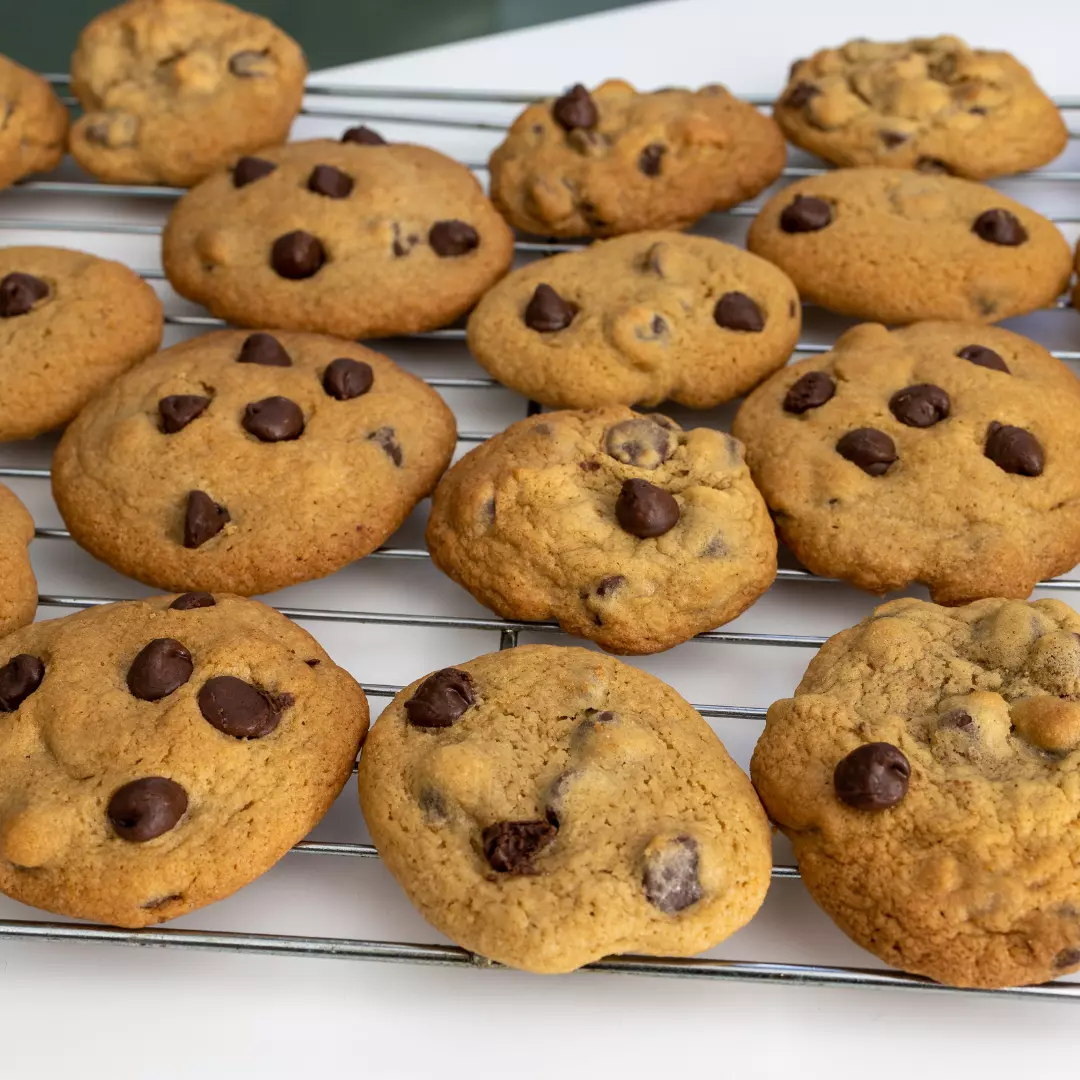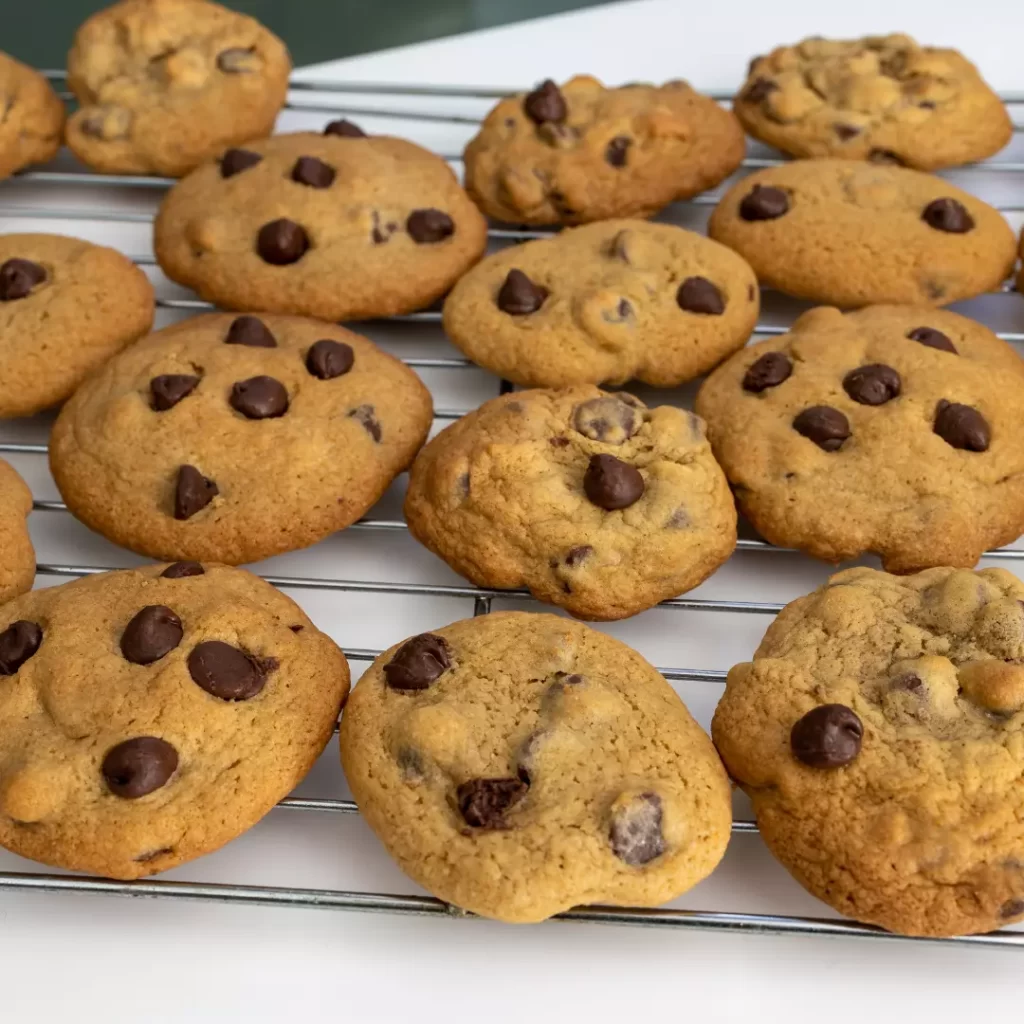 Preparation: 20 minutes
Cooking: 14 minutes
Yield: about 24 cookies
Freezing: Excellent
Ingredients
½ cup (125 mL) butter, softened
½ cup (125 mL) packed brown sugar
¼ cup (50ml) sugar
1 C. 1/2 tsp (5 mL) pure vanilla extract
1 cup (250 mL) Five Roses® All Purpose Bleached Flour
1 C. 1/2 tsp (5 mL) baking soda
¼ tsp. (1ml) salt
1 cup (250 mL) semi-sweet chocolate chips
Method of preparation :
Preheat the oven to 350°F (180°C). Line baking sheets with parchment paper.
Cream butter, sugar, brown sugar, and vanilla in a large bowl until well blended.
Combine flour, baking soda, and salt. Add to butter mixture; mix well. Stir in chocolate chips. Drop batter by tablespoonfuls (15 mL) onto prepared baking sheets.
Bake in the center of the preheated oven for 9 to 14 minutes, or until the cookies are golden brown. Cool for 10 minutes before transferring to a wire rack to cool completely.
Tips:
For eggless cookies, omit the egg and work the dough with your hands until it comes together. Shape into small mounds, place them on the baking sheet, and bake as directed above.
About 16 cookies
Prep: 10 minutes + 1 hour or more chilling
Cooking: 13 minutes
Ingredients
500 ml (2 cups) flour
A pinch of salt
5 ml (1 tsp) baking soda
190 ml (¾ cup) vegetable margarine
250 ml (1 cup) brown sugar
65 ml (¼ cup) sugar
65 ml (¼ cup) coconut milk
10 ml (2 tsp.) vanilla essence
10 ml (2 tsp.) almond essence
125 ml (½ cup) white chocolate chips or drops
125 ml (½ cup) dark chocolate chips or drops
125 ml (½ cup) milk chocolate chips or drops
Preparation
Combine flour, salt, and baking soda in a small bowl. To book.
Mix the margarine, brown sugar, and sugar until the mixture is creamy.
Add the coconut milk and the essences, and stir until the mixture is homogeneous.
Gradually stir in the flour mixture and chocolates.
Cover and refrigerate for at least 1 hour or ideally overnight.
Preheat the oven to 180°C (350°F).
Using an ice cream scoop, form balls of dough about 45 ml (3 tbsp.). Place on a baking sheet lined with parchment paper, taking care to space out each ball.
Place on the center rack and bake for 10 to 13 minutes or until the cookies are lightly browned but still soft in the center. Remove from oven and let cool for at least 5 minutes before removing from pan.
RECIPE 3
Ingredients
100 grams of butter.
75 grams of brown sugar.
175 grams of flour.
30 grams of cocoa powder (use 70g of melted chocolate if you don't have any).
1 teaspoon of baking powder.
Chocolate chips.
Fruit (dried fruit if desired).
2 tablespoons ground flax seeds
Preparation
Cream the butter and sugar until soft and fluffy. Stir in the flour and cocoa powder to obtain a smooth paste.
Next, add the baking powder, brown sugar, dried fruit, and chocolate chips to the batter.
Next, add the ground flax seeds and knead the dough until they are evenly incorporated into the dough.
Divide the dough into 24 pieces and cut it into cookie shapes.
Preheat the oven to about 350 F.
Place the cookies on a carrier sheet, ensuring they are evenly spaced and have room to spread.
Bake the cookies until the edges are golden brown, but the center is still soft (this should take 6-10 min)
Cool and they are ready to eat
Banana Chocolate Chip Cookies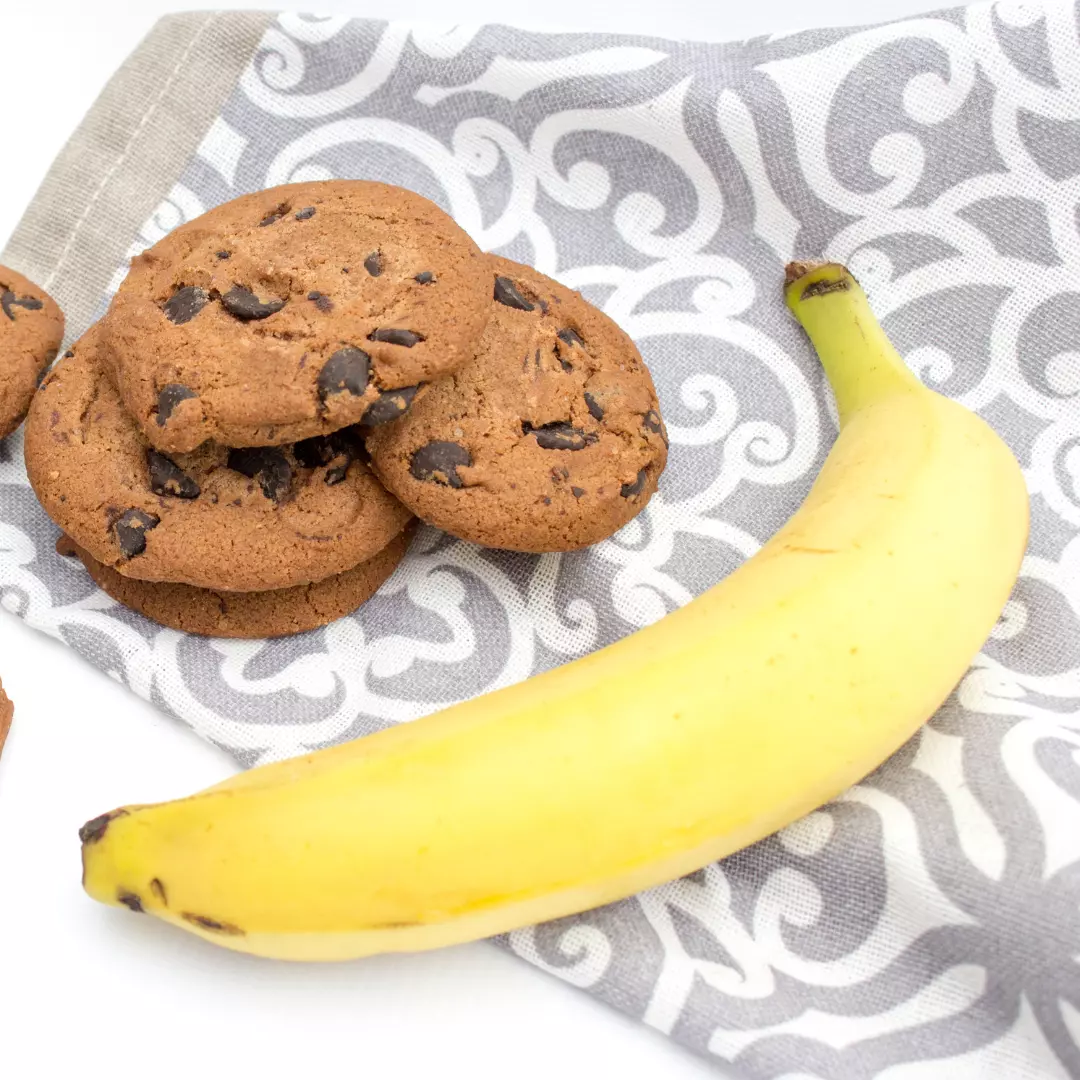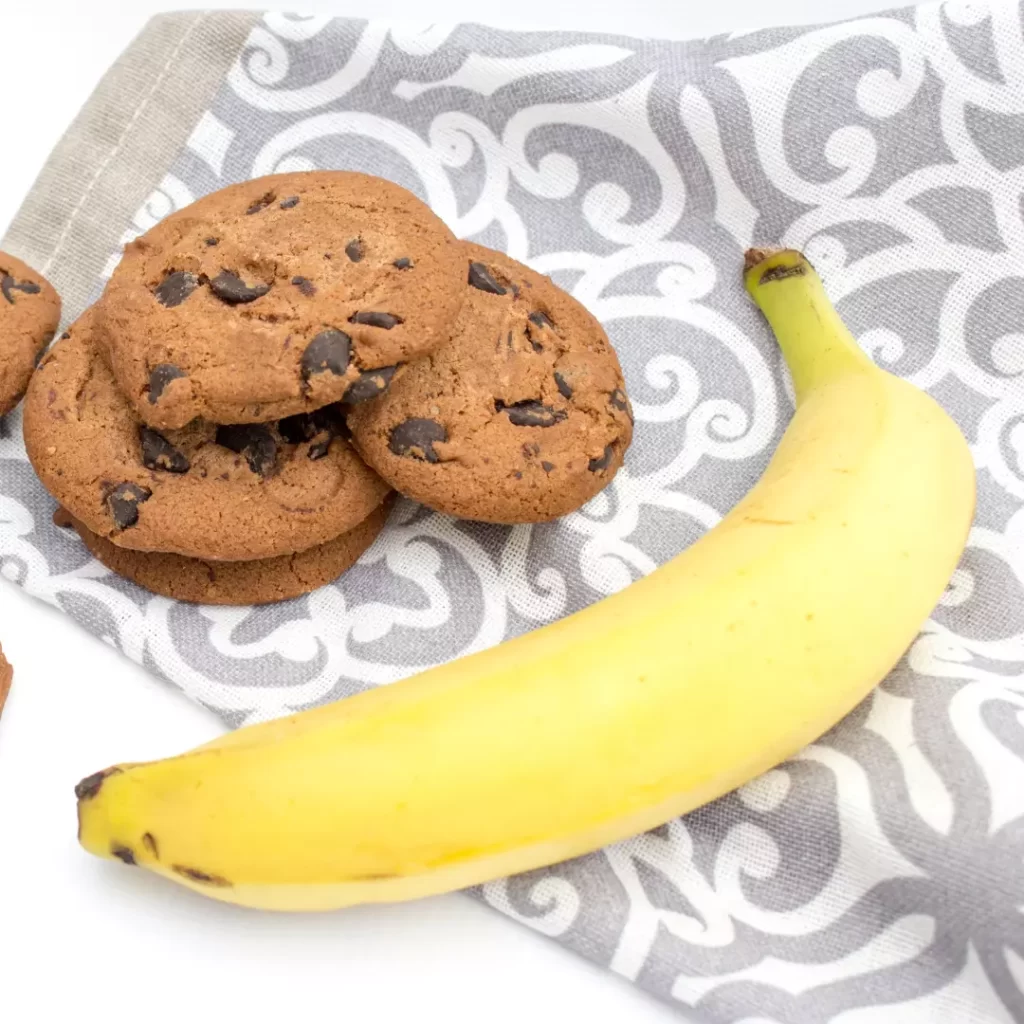 I often have bananas left in the fruit basket. My gourmands like them, but rather green. So, as soon as they are very ripe, I use them in baking. I prefer them that way.
Today I offer you cookies, also garnished with a good dose of chocolate chips. A gourmet and delicious mix. In addition, this recipe does not contain eggs which are perfect for allergy sufferers or if you are simply out of eggs.
Ingredients (for 18-20 cookies):
280g flour
1/2 teaspoon baking soda
2 teaspoons cornstarch
1/4 tsp salt
115 g melted unsalted butter
150 g blond cane sugar
1 small mashed banana – 100 g net (I used 150 g net)
2 teaspoons vanilla extract
175g chocolate chips
Instructions :
Preheat the oven to 180°C, static heat.
Prepare 2 baking sheets with parchment paper.
In a bowl, combine flour, baking soda, cornstarch, and salt.
Mix the melted and cooled butter with the sugar in another bowl with a hand whisk.
Add the mashed banana and vanilla extract and stir a little more to incorporate.
Add the flour and mix with the Maryse to have a homogeneous texture.
In the end, stir in the chocolate chips.
With an ice cream scoop, place balls of dough on the plate, spacing them out because the cookies will spread out during baking.
Bake for 15 minutes or until lightly browned.
Let cool for 5-10 minutes then place them on a wire rack or the serving platter.
Store them in a closed metal box.