Seafood soup is a delicious and easy soup recipe that is perfect for any time of the day. Made with shrimp, mussels, clams, and fish of your choice, this soup is a flavorful and filling meal that you can enjoy any time of the day. This recipe is a simple and budget-friendly way to get more seafood into your diet. Seafood soup is the perfect dish to eat on a budget and is a great way to put a diverse spin on regular weeknight meals.
Shrimp soup recipe
Mexican shrimp soup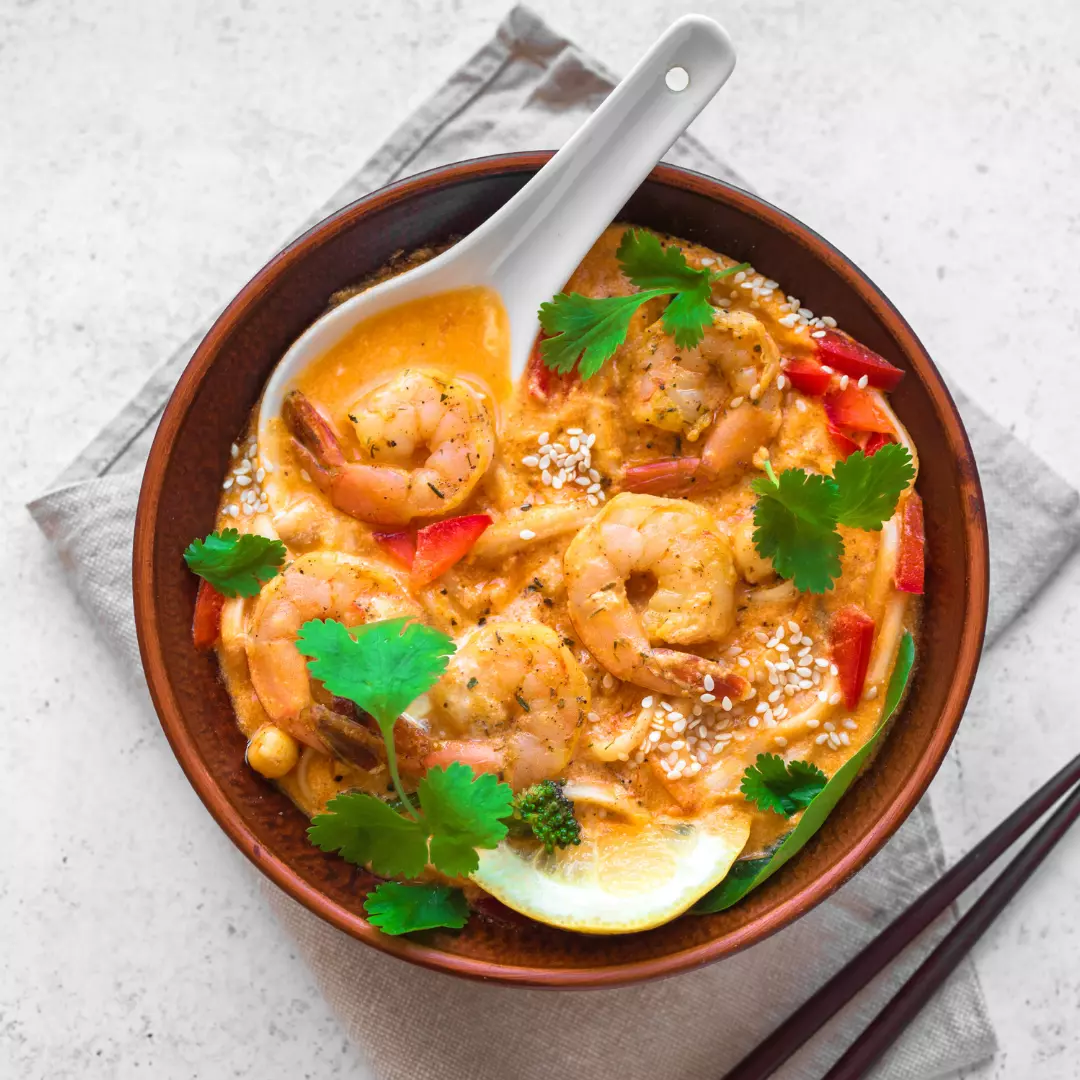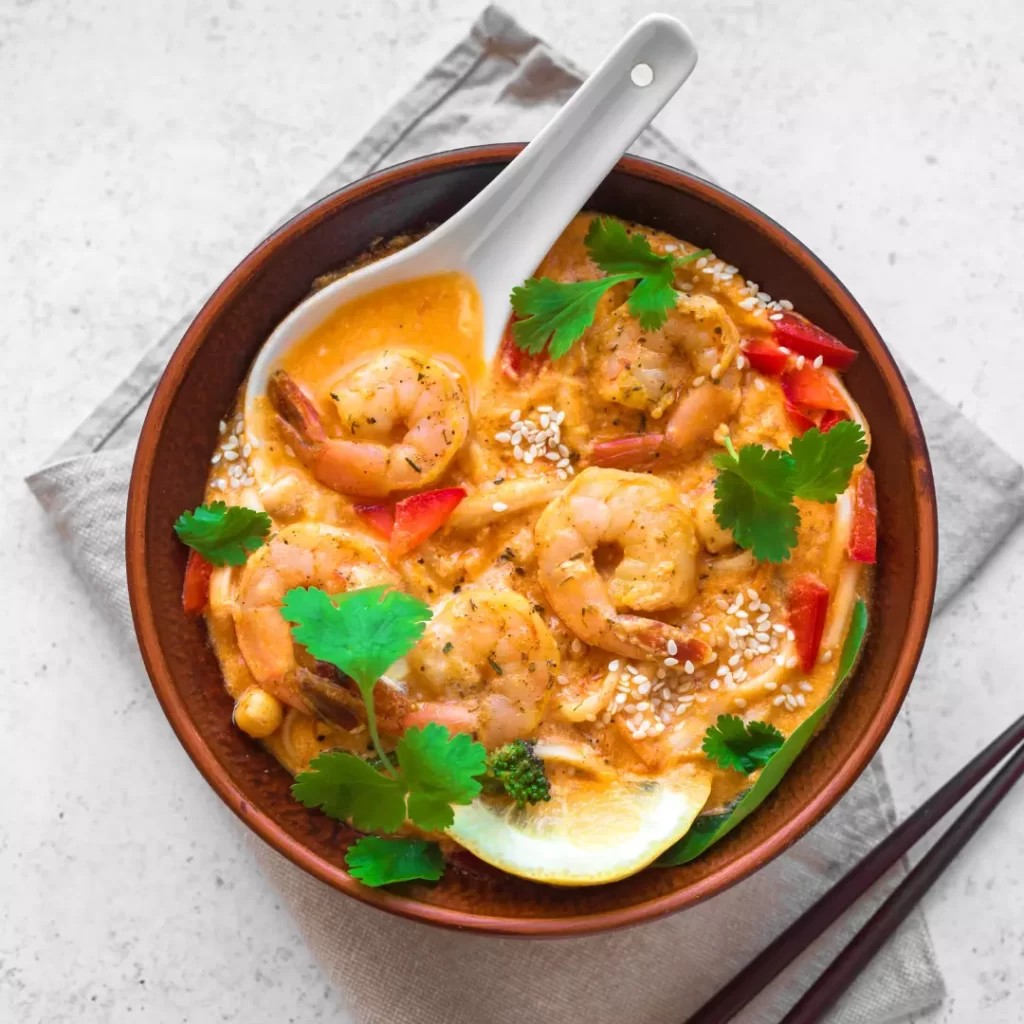 Mexican soup (Sopa de camaron) with fresh gulf shrimp, white onions, carrots, potatoes, garlic, smoked guajillo peppers, and fresh epazote is full of flavor.
Preparation time: 20 minutes
Cooking time: 45 minutes
Total time: 1 hour 5 minutes
Dinners: 4
2 cups of water
3 ounces guajillo peppers, seeded and deveined
2 liters of water, divided
1 tablespoon oil
2 large carrots, peeled and cut into cubes
1 large potato, peeled and cut into cubes
½ white onion, chopped
3 garlic cloves, diced
2 chicken bouillon cubes
1 sprig of fresh epazote leaves
1 pound Gulf shrimp
Bring 2 cups of water to a boil in a saucepan. Add the guajillo peppers and boil until tender, about 10 minutes. Drain and transfer to a blender.
Add 1/2 cup of fresh water and stir the sauce until it is liquefied. Into a bowl, strain the sauce.
Heat the oil in a saucepan over medium heat. Add carrots, potato, onion, and garlic; cook and stir until softened slightly about 5 minutes. Pour in the sauce and cook until well blended, about 3 minutes longer. Add the rest of the water and bring to a boil. Add the broth and the epazote to the saucepan. Simmer until vegetables are tender, 7 to 10 minutes. Stir in shrimp and cook until opaque, about 3 minutes more
Calories: 225.8 calories
Carbohydrates: 24.1g
Cholesterol: 172.9mg
Fat: 4.8g
Saturated fat: 0.9 g
Trans fat: 0
Unsaturated fats: 0
Dietary fiber: 3.7 g
Protein: 21.7g
Sodium: 825.4mg
Sugars: 4.2 g
Thai shrimp soup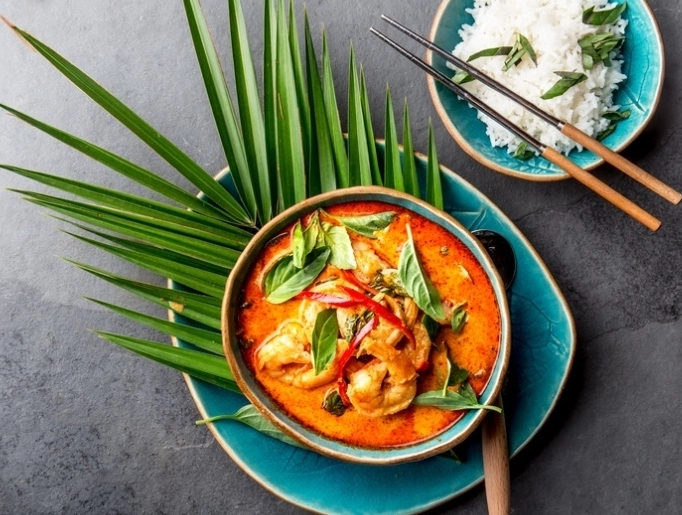 Do you like Thai soup? That's good! This shrimp version is ultra-tasty, in addition to being simple, quick, and easy to prepare! We bet that it will often be on the menu for dinner!
150 g (1/3 lb) rice vermicelli
15 ml (1 tbsp.) sesame oil (untoasted)
125 ml (1/2 cup) dry shallots (French), chopped
15 ml (1 tablespoon) minced garlic
30 ml (2 tablespoons) chopped ginger
60 ml (1/4 cup) red curry paste
2.5 ml (1/2 teacup) turmeric
1 liter (4 cups) sodium-reduced chicken broth
1 can of 398 ml coconut milk
3 stalks of Haiku lemongrass, finely chopped
1 Thai chili, sliced
2 small carrots, finely cut diagonally
225 g (1/2 lb) medium shrimp (size 31/40) raw and peeled
30 ml (2 tablespoons) fresh coriander leaves
2 green onions, minced
Rehydrate rice vermicelli according to package directions. Drain.
In a saucepan, heat the sesame oil over medium heat. Cook the shallots, garlic, and ginger for 1 minute.
Add red curry paste and turmeric. Cook for 30 seconds, stirring until the aromas are released.
Add the chicken broth, coconut milk, lemongrass, and Thai chili. Bring to the boil, then simmer for 20 minutes over low heat.
Add the carrots to the pan. Cook 5 minutes.
Add the prawns. Bring to a boil, then reduce heat to low and simmer for 2 minutes.
Toss in the rice vermicelli and toss to combine
To serve, divide the soup into bowls. Garnish each serving with cilantro leaves and green onions. Serve immediately.
Spicy shrimp soup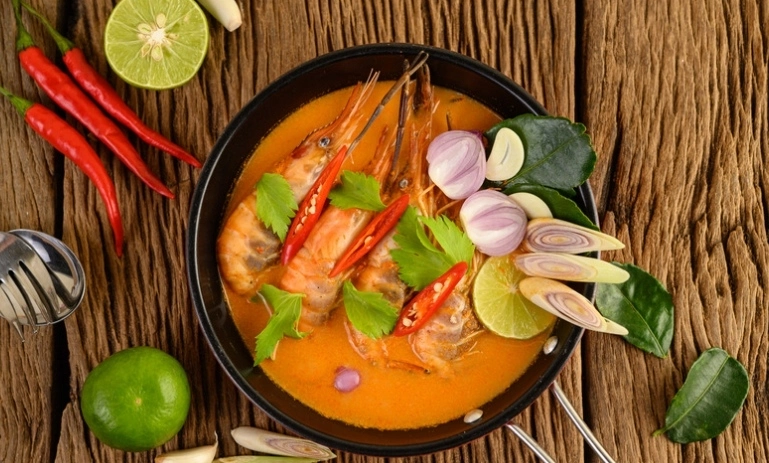 For 2 people
10 raw prawns
3 dl chicken broth
2 Thai peppers
1 shallot
1 galangal nut (if not available, ginger)
1 lemongrass stick
1 kaffir lime leaf (if not available, the second stick of lemongrass)
4 shitake (if not available, 4 button mushrooms)
1/2 dl coconut milk
1 lime
1 bunch of cilantro
Mince the shallot; peel and coarsely grate the galangal; remove the tough leaves from the lemongrass stick and cut it into chunks; crumple the kaffir lime leaf. Add all these elements to the broth and bring to a boil.
Add the coconut milk, the minced peppers, the mushrooms cut into strips, and the shelled prawns.
Let cook for 5 minutes over medium heat.
Serve the soup in bowls, and add a squeeze of lime juice and a few fresh coriander leaves.
Enjoy hot, with chopsticks.
Cream of shrimp soup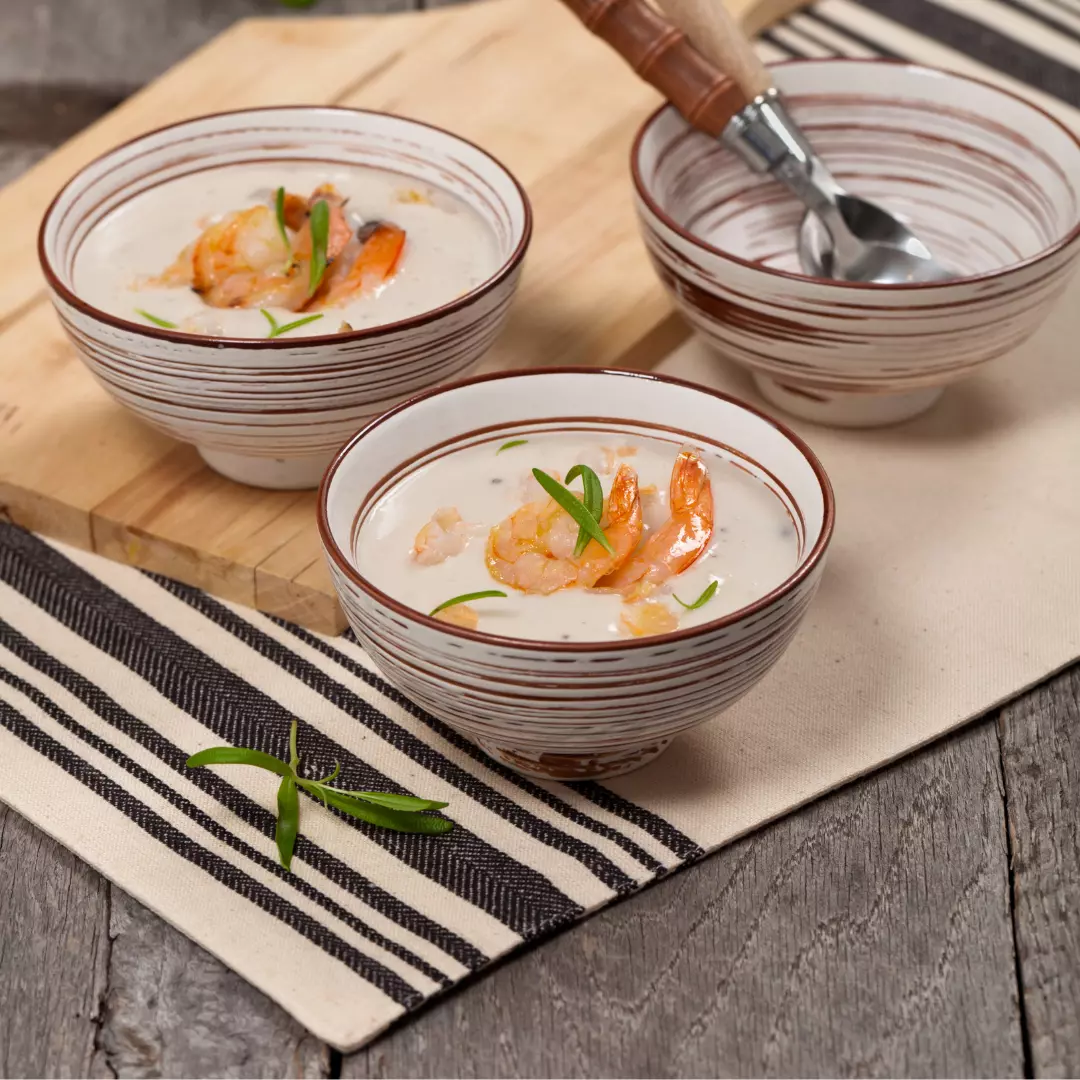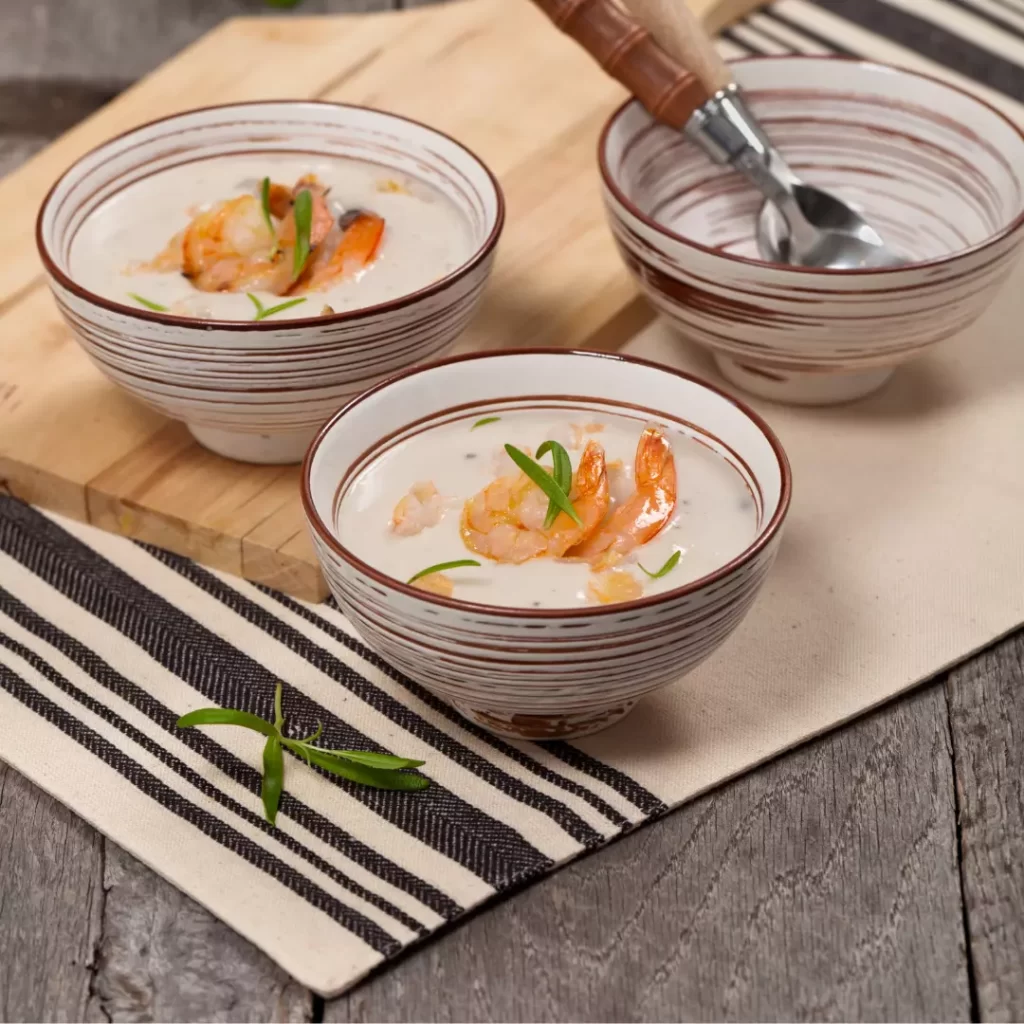 2 pounds uncooked medium shrimp, peeled, deveined, and halved
½ cup butter or margarine
¼ teaspoon garlic powder
¼ cup plus 2 tablespoons all-purpose flour
3 cups whipping cream
3 cups chicken broth
1 bay leaf
1 ½ teaspoons salt
½ teaspoon white pepper
2 tablespoons chopped chives
Step 1
Sauté shrimp in butter and garlic powder in a large Dutch oven for 5 minutes; remove shrimp with a slotted spoon, and set aside. Reserve pan drippings.
Step 2
Add flour to pan drippings; stir until smooth. Cook for 1 minute, stirring constantly. Gradually add whipping cream, broth, and bay leaf; cook over medium heat, stirring constantly, until thickened and bubbly. Stir in salt, pepper, and chives. Remove and discard bay leaf.
Step 3
Ladle soup into individual serving bowls; serve warm.
Mexican seafood soup
A bowl with a capacity of 1/4 liter containing onion, chopped
2 medium tomatoes, peeled, seeded, and chopped
2 Anaheim peppers, seeded, deveined, and cut into strips
1 jalapeno pepper, seeded, deveined, and minced
5 medium potatoes, peeled and cut into 1cm cubes
3 garlic cloves, minced
1 teaspoon cumin seeds
400 grams fish, cut into small pieces (any white saltwater fish will do – snapper, haddock, flounder, etc. You can also use shrimp or combinatorial)
One 80ml cup containing cilantro, chopped
1 teaspoon of oregano
6 tablespoons lime juice (about 1-1/2 limes)
1 liter of chicken broth
1 teaspoon of salt
1 teaspoon of pepper
2 bay leaves
1 tablespoon olive oil
Water
With a mortar and pestle (or molcajete if you have it!), crush the cumin seeds. Add the minced garlic and chopped jalapeño, then mash them into a paste. Add a little water to release the spices.
Add olive oil to a heavy-bottomed pot or Dutch oven. Sauté the onions. Add tomatoes and peppers and continue to sauté until tender.
Add all the rest of the ingredients except the seafood and cilantro. Bring to a boil, cover, and simmer gently for 40 minutes.
Add the fish and cilantro and simmer gently for another 15-20 minutes. Serve hot with fries and salsa.
Shrimp is a crustacean found both in warm seas and on the French coasts. Various varieties differ in size and color. Their consumption throughout the world is very important and they are a dish often served for festive meals.
Shrimp characteristics
Low in calories;
Rich in protein;
Ideal for monitoring weight;
Source of Omega 3;
Role in the protection of the cardiovascular system.
Check out also this article about 5 Delicious Italian Soup Ideas
Nutritional and caloric values of shrimp for 100 g of cooked prawns:
| | |
| --- | --- |
| Nutrients | Average content |
| Energy | 93.8 kcal |
| Water | 74.9g |
| Protein | 19g |
| Carbohydrates | 1.87g |
| Lipids | 1.16g |
| Cholesterol | 159mg |
| Sodium chloride salt | 1.35g |
| Calcium | 240mg |
| Chloride | 1510mg |
| Copper | 0.68mg |
| Iron | 1.98mg |
| Iodine | < 5 mcg |
| Magnesium | 61mg |
| Manganese | 0.077mg |
| Phosphorus | 57mg |
| Potassium | 254mg |
| Selenium | 21.5mcg |
| Sodium | 541mg |
| Zinc | 1.69mg |
| Retinol | < 2µg |
| Vitamin D | < 0.5µg |
| Vitamin E | 2.48mg |
| Vitamin K1 | 0.2mcg |
| Vitamin C | 0.83mg |
| Vitamin B1 or Thiamine | 0.019mg |
| Vitamin B2 or Riboflavin | 0.04mg |
| Vitamin B3 or PP or Niacin | 1.77mg |
| Vitamin B6 | 0.1mg |
| Vitamin B12 | 1.64 mcg |
| Vitamin B9 or Total Folates | 14.6 mcg |
| Vitamin B5 or Pantothenic Acid | 0.31mg |