In Italy, each region has its soup recipe! Family dish par excellence, rich in vegetables and legumes, often in pasta too, nutritious without ever being heavy, it has the advantage of being both easily digestible and low in fat.
Italian soup recipes
Italian soup with sausage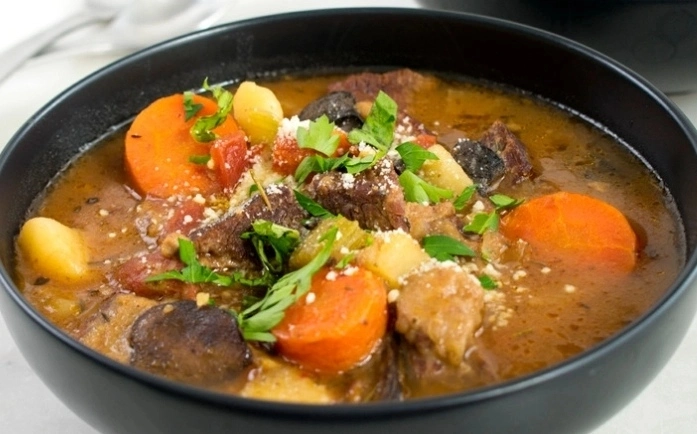 Kill two birds with one stone! Double or even triple this recipe to freeze it in individual servings. This recipe is taken from the book À table en famille.
Preparation
Cooking time:
30 minutes
Preparation time:
15 minutes
Servings:
6 servings
Ingredients
400 g (14 oz) Italian sausages
1 spoon soup of oil
1 (or 2 celery stalks, diced) fennel bulb, minced
1 carrot, sliced
1 onion diced
2 minced garlic cloves
2 cups (500 ml) chicken broth
500 ml (2 cups) of water
1 can 19 oz (540 ml) diced tomatoes
1/2 tsp. fennel seeds
200 ml (3/4 cup) short pasta (tubetti, fusilli, macaroni)
2 tbsp. (or 2 tsp dried parsley) chopped fresh parsley
salt and pepper
Grated parmesan
Instructions
Remove the meat from the sausages (discard the casings).
In a large saucepan, heat the oil over low heat and brown the sausage meat for 5 minutes or until browned.
If you want to keep the sausage slices in the soup, cook the sausages whole then cut them into 1 cm slices.
Remove meat from the pan and drain excess fat, if necessary.
Return the sausage to the pan. Add broth, water, tomatoes, and fennel seeds. Bring to a boil.
In the same pan, add the fennel, carrot, onion, and garlic and cook for 10 minutes or until the vegetables are tender.
Stir in pasta, return to a boil, then simmer for 8 minutes or until pasta is cooked. Stir in the parsley, salt, and pepper. Serve with grated parmesan.
Italian soup with kale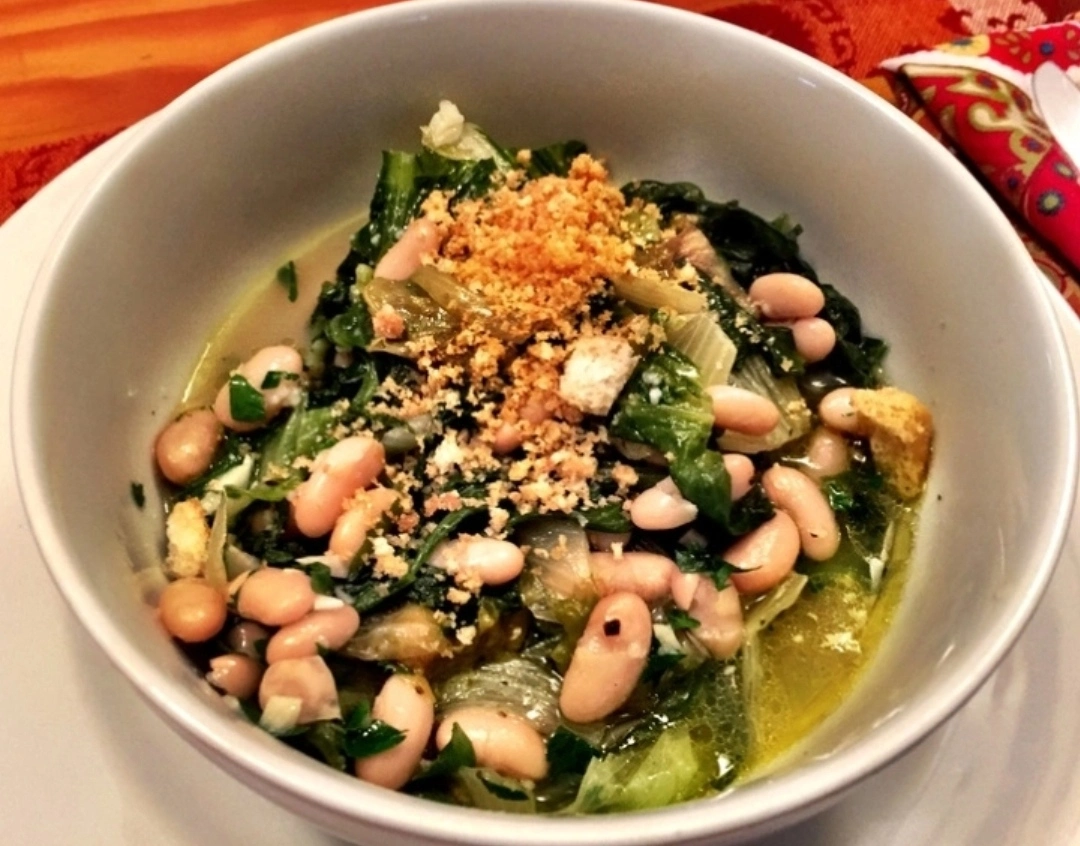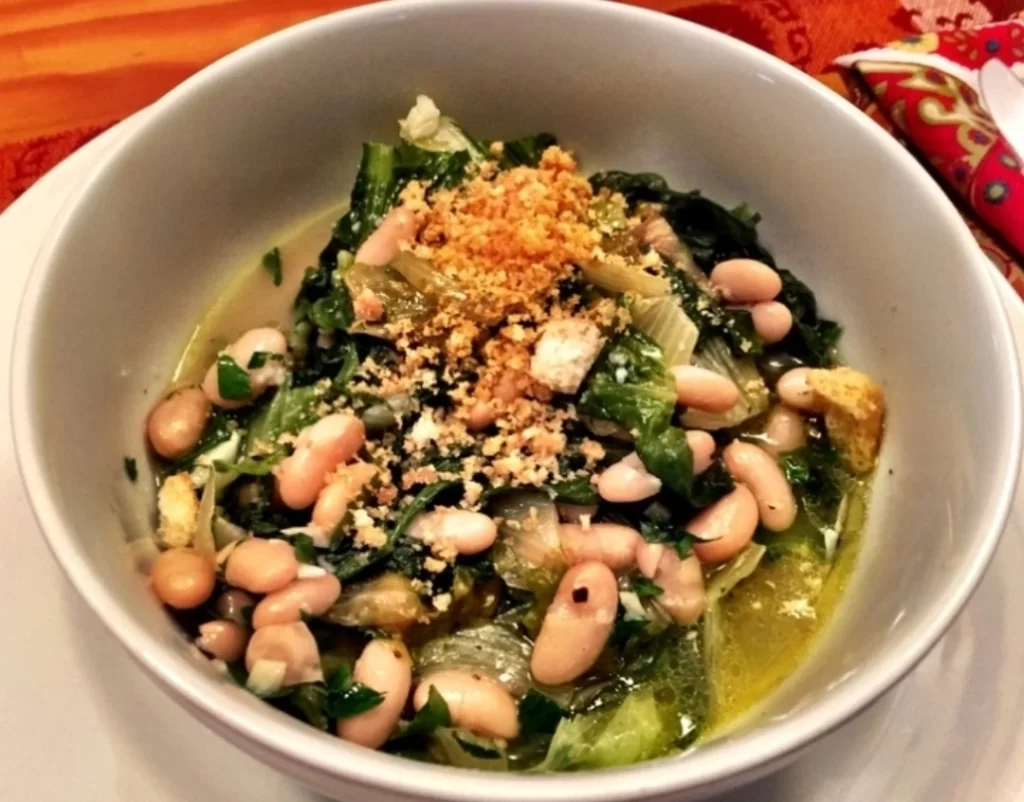 Ingredients
2 bunches of kale
7 fresh tomatoes or (1 can of peeled tomatoes)
1 can of kidney beans
onion and a clove of garlic
1 stock cube
a dough of your choice
herbs: oregano, thyme, bay leaf, salt and pepper
oil or knob of butter
Preparation
Wash the kale, cut the leaves into strips, peel the onion and thinly slice it, rinse the tomatoes, and cut them into cubes. Simmer the onion in oil or butter, and add the tomatoes, kale, kidney beans, and herbs.
Pour warm water into a stock cube, add the pressed garlic and leave on low heat for about 30 minutes. Add the pasta and check its cooking time. Season with salt and pepper, and your meal soup is ready!
Vegan Italian soup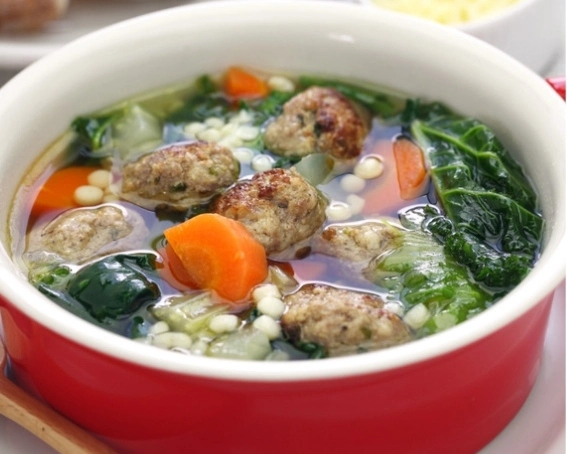 Servings: 4 to 5
Preparation: 15 minutes
Cooking: 15 minutes
Ingredients
6 cups (1.5 liters) vegetable broth*
1 or 2 carrots
1 zucchini
1 tomato
2 cubes of defrosted spinach
½ cup (125 ml) orzo or other pasta to taste
18 to 20 vegan meatballs
Preparation
Heat broth over high heat in a saucepan. Peel and grate the carrots. Also grate the zucchini and dice the tomato. Add the vegetables to the broth and when the boiling point is reached, pour the pasta and cook for 15 min.
Add spinach. Reheat the meatballs in the microwave if necessary. Divide soup between bowls and add meatballs. To serve.
Check out also my article about 5 Types Of Shrimp Soup: The Most Delicious And Easiest Recipes
Cold Italian soup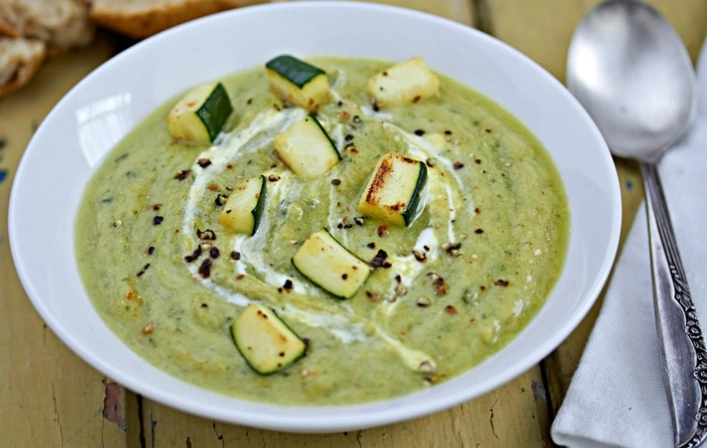 Cold Italian soup is a gourmet dish. The taste is very delicate. Cold Italian soup is very good in the heat when you want to eat something light and fresh. And it looks very appetizing and exquisite. Try it and see for yourself. Enjoy your lunch!
Purpose: lunch / dinner / healthy lunch
Main ingredient: vegetables / zucchini
Meal: Soups / Cold soups
Geography of the cuisine: Italian
Diet: diet food
Ingredients:
Zucchini or zucchini – 2 pieces (not large)
Mint leaves – 10 pieces
Olive oil – To taste
Salt – To taste
Pepper to taste
Servings: 5 to 6
How to make cold Italian soup
Wash the courgettes, peel them, and cut them into slices.
Then boil the courgettes in salted water until tender.
When zucchini is ready drain and cool. Then grind with a blender.
We take plain yogurt. We'll add it to make the soup as thick as you want it to be.
Grind the mint leaves. Add the yogurt and mint to the zucchini in a bowl and mix well. Salt and pepper to taste.
Ladle the soup into bowls. Decorate the top with mint leaves. Sprinkle with olive oil. Enjoy your lunch!
Creamy Italian soup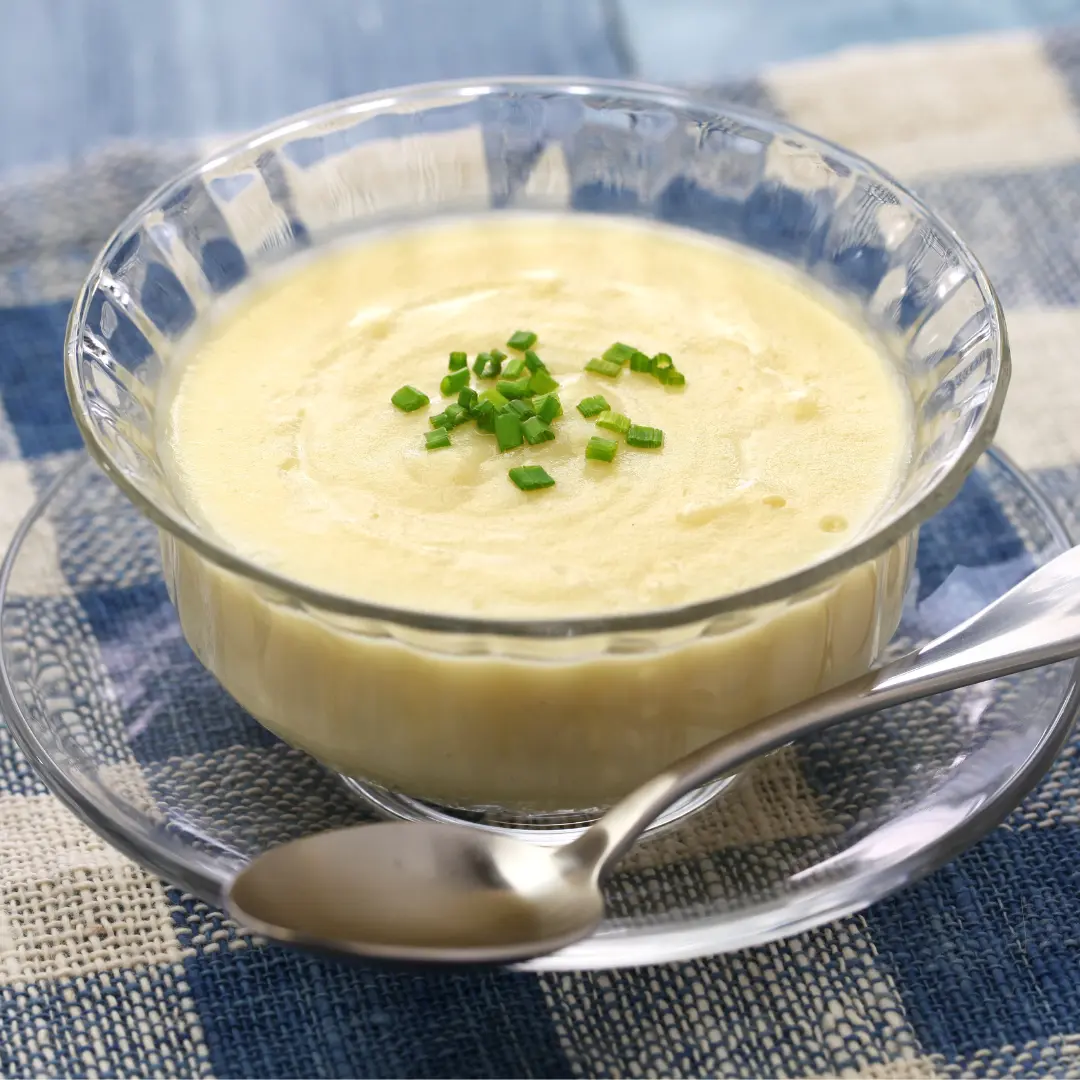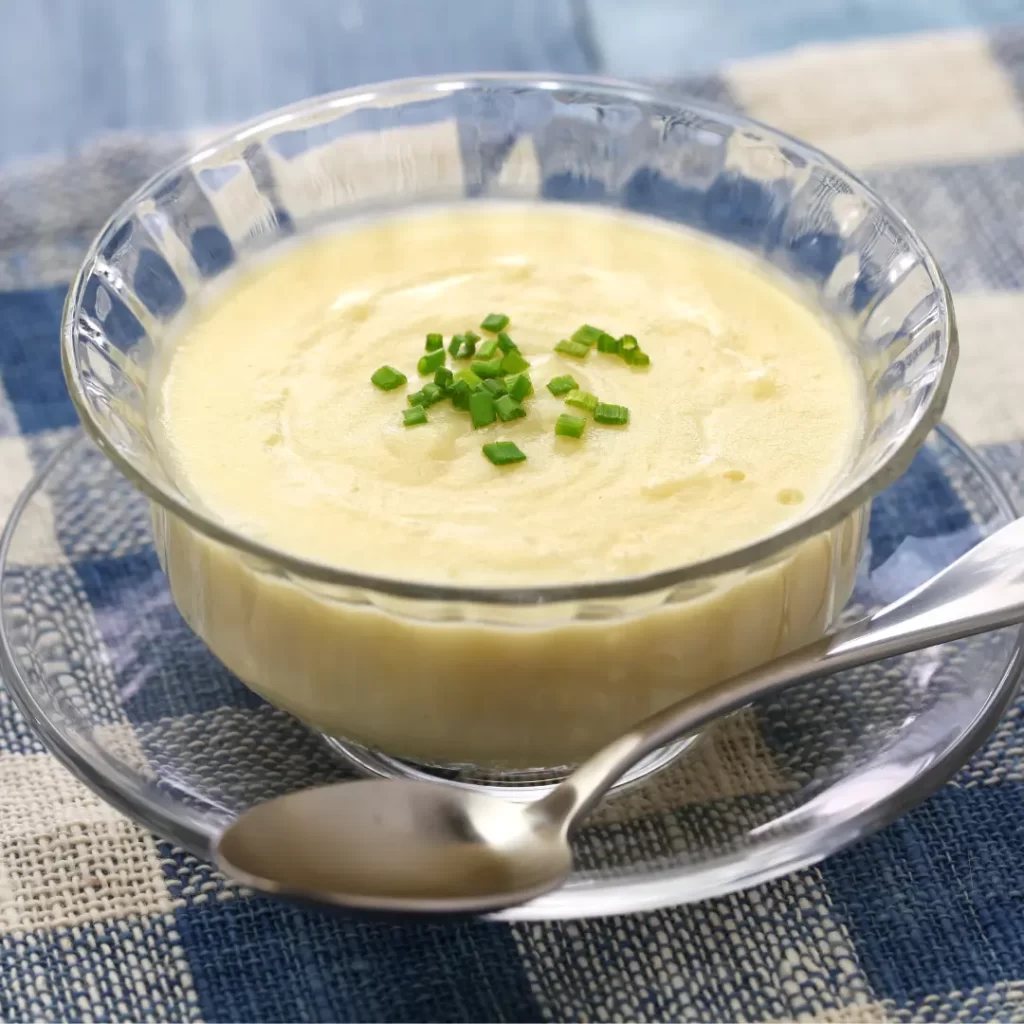 It will be able to bring you a little comfort, especially at the start of the year, which is quite rough for sure. Usually, in January, I want to eat lighter after an intense two weeks of festive food, but here, I opt for food that soothes the soul!
What is imperative with this soup is to leave large pieces of sausage, to use a good parmesan (not the one in the box there!!!), and not to miss the fresh basil at the end!
Preparation: 10 minutes
Cooking: 25 minutes
Serving: 8
Ingredients
7-8 Italian sausages cut into pieces
1 cup raw pasta shells
1 chopped onion
5 minced garlic cloves
1 cup chopped Nantes carrots
3 celery stalks chopped
¼ cup flour
8 cups vegetable broth
1 can of diced tomatoes (about 400ml)
1 C. oregano
1 C. tbsp rosemary (I used fresh and chopped it)
1/2 tsp. crushed chili flakes
1 ½ cups cooking cream (15% or 35%)
1 cup grated parmesan
1 handful of chopped fresh basil
Olive oil
Salt and pepper from the mill
Steps
In a casserole dish over medium-high heat, cook the sausage pieces in the olive oil, breaking them up roughly into pieces.
When the sausages are cooked and nicely browned, lower the heat to medium-low, then add the garlic, onion, carrots, celery, chili flakes, oregano, and rosemary. Season with salt and pepper, then continue cooking, stirring, until the onions are translucent.
Add the flour, mix, then deglaze with the vegetable broth, scraping the bottom well to get the meat juices.
Add the canned diced tomato, stir, bring to a boil, lower the heat, then simmer for about 10 minutes.
Add the pasta, then continue cooking until al dente.
Remove from the heat, then add the cream, parmesan, and fresh basil.
Taste, then adjust the seasoning.
Serve with a little more parmesan and chopped fresh basil.